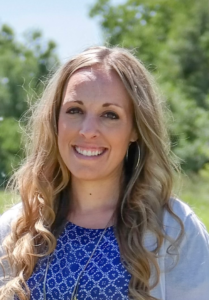 Hello! I'm glad you're here. A little background about myself, Jamie Pieper… My passion in life has developed over time, but has always included improving and empowering the lives of the children in our community. I started with bachelor's degrees in Child Psychology and Criminal Justice from the University of Wyoming and quickly moved to special education classrooms. Later, I worked as a Pre-K and then Kindergarten teacher. I loved my time teaching young minds and watching their curiosity blossom. For the past 10 years, I have had the privilege to be with my young children and teach preschool and Pre-K in my home. I volunteer in my children's schools each year through individual classrooms,  PTO, site councils, and various committees. 
 I have lived in Arkansas City for the past 7 years with my husband, Ben, and 5 children, ages 16 to 6. I am in a unique time of life to have children in all three levels of school in Arkansas City: Elementary, Middle School and High School. I am involved in all three site councils and have served in many capacities with the goal to improve our schools, student experiences, and to build bridges into the community. 
My life is full as I endeavor to enrich and support my kids' growth in and out of school. They have found interest in almost anything they can imagine.  From soccer, to basketball, orchestra to choir, student government to robotics, I appreciate the wide array of activities that USD 470 offers its students.  I am grateful for a school district and community that offer an increasing number of opportunities to help our children grow and develop. I am an avid bulldog fan through and through!
My husband, Ben, and I own Riverstone Family Dental in Arkansas City. Through much hard work and dedication, along with the support of an incredible team, our dream of being small business owners and serving patients in our community is marching forward. We work to create an experience of trust, health and healing through dentistry and friendship. I am grateful for the values and principles I have learned from managing family life, a small business and involvement in the community that I love.
In this busy time of life, you may ask, "Why now? Why the Board of Education?" The answer is clear. I care. In a few more words, I think I am uniquely situated with children in all three levels of education, and involved in such a variety of activities to provide a needed perspective. I care about our elementary schools, our middle school experience and our ability to equip our high school students to be productive, successful adults. In addition, my perspective as a small business owner and my background in education, offer a distinctive approach to our district's future and concerns. I have spent years in our district as a volunteer and have grown to love and respect our students and teachers. I believe in what we are doing as a community. The future will be bright. I cannot wait to roll up my sleeves and be part of it all!